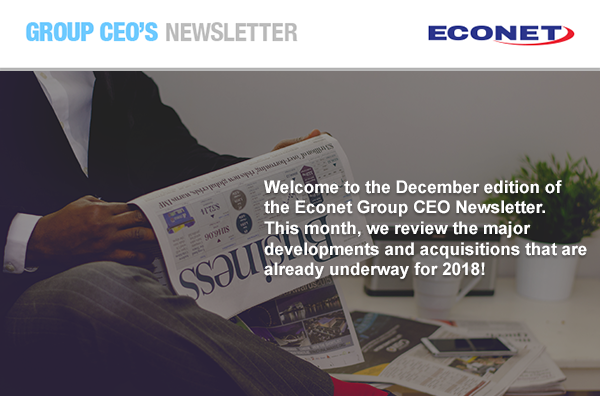 17 December 2018
Econet Group CEO Newsletter - December 2017
CEO's Note
There are moments in life when one needs to pause, take a step back, and marvel at God's grace. Looking back at what we have collectively achieved as Team Econet in 2017 is one such moment.
One only has to look at the number of international awards with which we have been honoured this year to understand that 2017 has been a phenomenal year for the Econet Group as a whole. Just a sampling; EcoCash was named the Best Mobile Payments Solution in the world at the Mobile World Congress; Cumii received a 2017 African New Product Innovation Award and been recognised by Frost & Sullivan as one of the world's most innovative multi-industry companies; Liquid Telecom has been named the Best Operator in an Emerging Market and, for the sixth consecutive year, Wholesale Service Provider of the Year for Middle East and Africa.
Consider that all our mobile networks businesses have not only weathered challenging operating environments in their respective markets, but have continued to prosper. Consider that we now have almost 55,000km of fibre across Africa, more than double the kilometres of fibre we had at the close of 2016 and that Liquid Telecom now operates three tier 3 data centres in Africa hosting some of the world's largest corporate organizations. Consider that we are connecting mobile operators and banks across 19 countries to make mobile payments easier, seamless and the preferred option for people and businesses. Consider that 12 months ago few had heard of Kwesé, we are now in over 25 countries and are officially Africa's largest free-to-air TV network.
Consider that we have raised over a billion US Dollars this year – the Zimbabwe rights issue, syndicated loans at the Group level, equity investments, the Liquid Telecom Eurobond now listed on the Dublin Stock Exchange mean that we raised over US$1bn in funding for the Group in 2017. This fact, and the fact that we continue to attract high-profile investors keen to support our growth, is an endorsement of our business model, our strategy, and you, the Econet Team.
I cannot overstate how proud I am to lead an incredible group of over 6,000 remarkable people working across the African continent, the UK and soon the USA. Thank you for your dedication, perseverance and commitment to our Chairman's vision. We have faced some challenging moments during the year, but these come with growth and present opportunities for us to learn what doesn't work and what works better. We are showing our fellow Africans and the world what is possible when a bold vision has a clear plan, a world class team who work with commitment, faith and integrity.
Speaking of leadership and vision, I wish to acknowledge and thank our Executive Chairman, Mr Strive Masiyiwa. I believe I speak for us all when I say how grateful we are for his passion, perseverance and his willingness to sacrifice for Econet's success.
Looking Ahead
As we bid 2017 goodbye, we look to 2018 with great hope, faith and excitement as our TMT strategy takes root across Africa. Great things lie ahead of us. Our mobile, fibre broadband, data centres, media, fintech and Internet-of-Things businesses will reach new heights in 2018. I urge you to faithfully complete 2017, take time to rest fully with your loved ones, and return refreshed to tackle another big, big year in the story of Econet that we are all writing. I wish you a Peaceful Christmas and God's blessings throughout 2018.
May the Lord bless you and keep you,
May the Lord make his face to shine upon you and be gracious to you,
May the Lord lift up his countenance upon you and give you peace.
(Numbers 6:24-26)
ECONET COMPANY UPDATES
2017 has ended off on an exciting note with partnerships that continue to transform us as a business.
CONTACTS
Anslow Office Park, 8 Anslow Lane, Bryanston 2196 South Africa, +27119965500, +27119965511