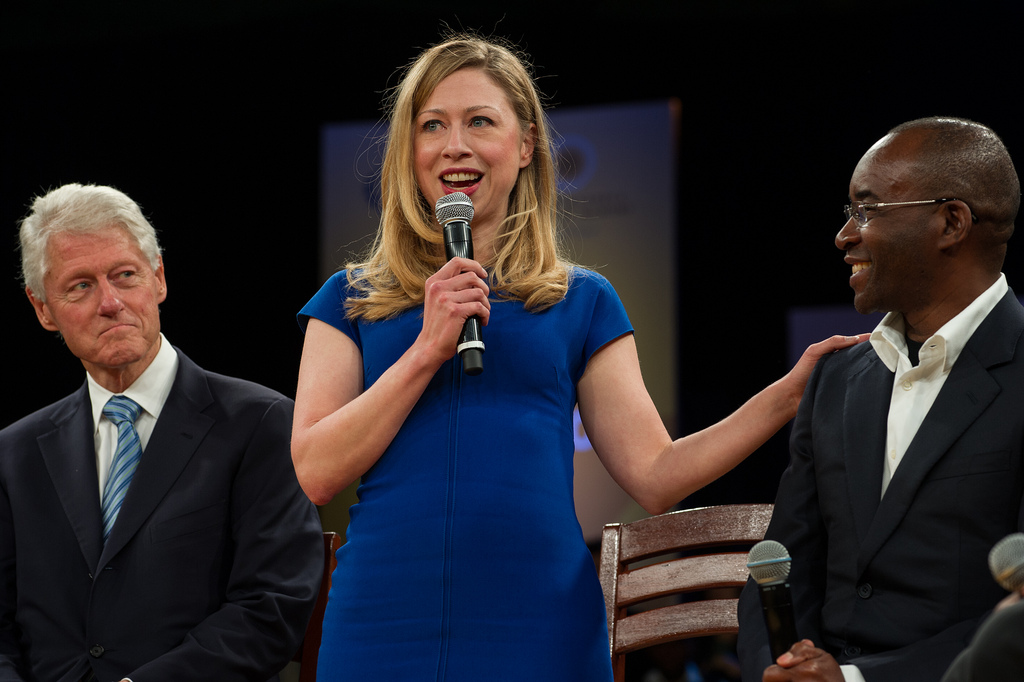 09 April 2015
Strive Masiyiwa announced as a participant at Clinton Global Initiative Middle East & Africa meeting, May 5-7 in Marrakech
Program Details Announced for Clinton Global Initiative Middle East & Africa Meeting, May 5-7 in Marrakech
New York, NY
Press Release
Regional and global leaders from across sectors to address pressing challenges, including investing in youth; securing access to energy, food, and water; and expanding infrastructure for communities across the Middle East and Africa
Featured participants to include President Bill Clinton, Founder, Clinton Foundation and 42nd President of the United States; Chelsea Clinton, Vice Chair, Clinton Foundation; Jakaya Kikwete, President of the United Republic of Tanzania; Paul Kagame, President of the Republic of Rwanda; Shimon Peres, The Ninth President of the State of Israel; Zainab Salbi, Founder, Nida'a Productions; Women for Women International; Mostafa Terrab, Chairman & CEO, OCP Group; Mo Ibrahim, Founder and Chairman, Mo Ibrahim Foundation; Phuti Mahanyele, Chief Executive Officer, Shanduka Group (Pty) Ltd; Strive Masiyiwa, Chairman, Econet Wireless; Kennedy Odede, Founder and CEO, Shining Hope for Communities; Saba Al Mobasalat, Country Director, Jordan, Save the Children; Khalid Alkhudair, Chief Executive Officer, Glowork; Asma Mansour, President and Co-Founder, Tunisian Center for Social Entrepreneurship; and more.
NEW YORK – April 10, 2015
The Clinton Global Initiative (CGI) today announced details for the CGI Middle East & Africa Meeting, an event to be held May 5 – 7, 2015, in Marrakech, Morocco. His Majesty, King Mohammed VI welcomes the gathering which will bring together regional and global leaders from business, government, and civil society to spotlight regional successes and address a range of relevant issues including education; public health systems; youth employment; infrastructure; and water, food, and energy resources. The meeting is an opportunity for leaders to come together across sectors to examine and amplify the progress underway in two of the most dynamic regions of the world.
The CGI Middle East & Africa Meeting will build on the success of past CGI meetings—including CGI Asia in 2008 and CGI Latin America in 2013—to highlight regional successes and create a platform for leaders to drive further action. As with all CGI meetings, participants at CGI Middle East & Africa will work together to make Commitments to Action: new, specific, and measurable plans to address pressing global challenges. Since 2005, members of the CGI community have made nearly 3,200 Commitments to Action, improving the lives of more than 430 million people in over 180 countries. More than 80 of these commitments are specifically designed to improve lives in the Middle East and nearly 500 additional commitments positively impact people in Africa exclusively. The commitments include efforts to improve access to health care, create clean energy solutions for those at the base of the pyramid, and increase the full and equitable participation of girls and women in all parts of society.
At the meeting, key leaders from across the Middle East and Africa will participate in interactive working sessions around three action areas: Investing in Youth; The Future of Energy, Food, and Water; and Building Infrastructure for All.
In addition to the interactive working sessions, meeting participants will also join larger Plenary Sessions. Sessions at CGI Middle East & Africa will include:
Connecting People for Growth, where business, government, and civil society leaders will explore how partnerships between and among people, countries, regions, and sectors can help scale the significant growth that the Middle East and Africa have achieved over the past decade, helping to build even stronger economies, drive innovation, and achieve prosperity for all;
Infrastructure Challenges: Cities of the Future, where leaders will highlight ways to work together across sectors and industries to create sustainable cities and economic opportunities for the millions who live in urbanized landscapes in the Middle East and Africa;
The Food-Energy-Water Nexus, where leaders will examine how investments in sustainable agricultural production, better integration with global supply chains, and more innovative access to water and energy can boost production to meet growing demand in the regions; and
Women at the Forefront of Innovation, where leaders will explore how to enhance economic opportunities for women by harnessing the spread of mobile and Internet technology in the Middle East and Africa and improving access to finance, business training, and global markets.
Ahead of the CGI Middle East & Africa Meeting, President Clinton and Chelsea Clinton will visit the sites of several Clinton Foundation projects and CGI Commitments to Action underway in Africa, where President Clinton has established a legacy of work during and after his time in the White House.
In 1998, President Clinton took an 11–day trip to Africa–the longest visit by a sitting American President at that time. President Clinton's trip followed a trip that Chelsea and then-First Lady Hillary Rodham Clinton made the year before. In May 2000, he signed the African Growth and Opportunity Act (AGOA), which led to a new era of opportunity for African countries, and he also pushed for larger and faster debt relief through the Heavily Indebted Poor Countries (HIPC) Initiative. Additionally, the Clinton Administration invested heavily in the global fight against AIDS and Tuberculosis.
Since their initial trips, President Clinton, Secretary Clinton, and Chelsea Clinton have continued to build upon their longstanding commitment to Africa through the work of the Clinton Foundation, providing investment, opportunity, and health access to underserved communities. In July 2012, both President and Chelsea Clinton traveled to Africa to visit Clinton Foundation sites in South Africa, Mozambique, Rwanda, and Uganda, and in October 2012, Chelsea visited Nigeria for the launch of the Nigerian government's Save One Million Lives Initiative to reduce child mortality. In 2013, President Bill Clinton and Chelsea Clinton returned, visiting Clinton Foundation projects in Malawi, Zambia, Tanzania (including Zanzibar), Rwanda, and South Africa.
For more information, a complete list of featured participants, and the most up-to-date schedule, visit cgimiddleeastandafrica.org. Follow us on Twitter at @ClintonGlobal and on Facebook at facebook.com/clintonglobalinitiative for meeting news and highlights. The official meeting hashtag is #CGI. Plenary Sessions will also be live streamed during the meeting at new.livestream.com/CGI.