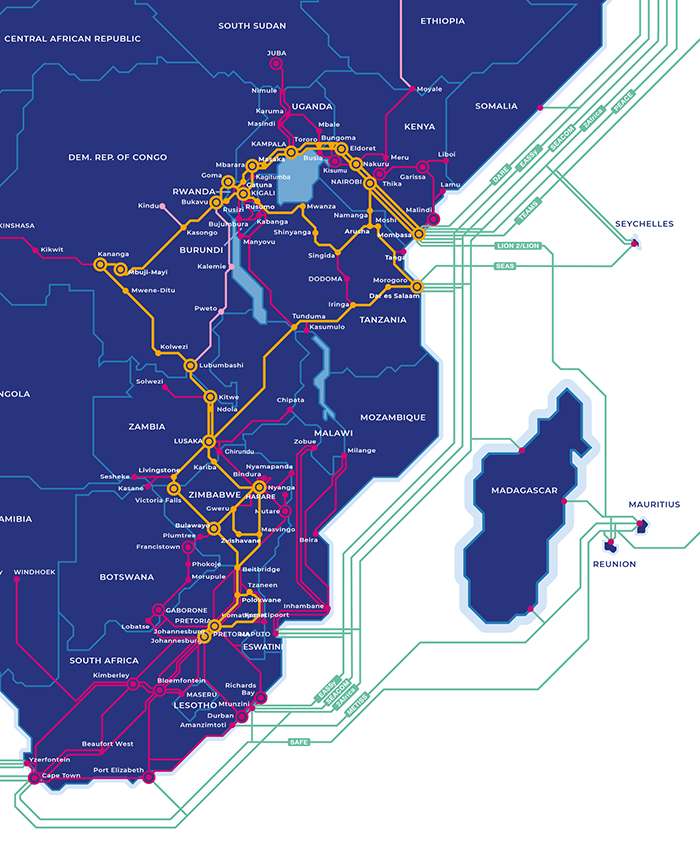 02 February 2023
Liquid Intelligent Technologies and Nokia partner to drive innovation in connectivity in Africa
Liquid Intelligent Technologies, a business of Cassava Technologies, a pan-African technology group, today announced that it has partnered with Nokia. Through this partnership, Liquid deployed Nokia's innovative transport network technology in the new terrestrial fibre route connecting Mombasa (Kenya) to Johannesburg (South Africa).
This announcement comes in light of the imminent launch of the new terrestrial data superhighway built by Liquid, connecting Kenya and South Africa. The technology used has allowed Liquid to build its first terrestrial route that will provide 12 terabits of capacity for carriers and service providers in South Africa, Kenya, Uganda, Rwanda, Zambia, Zimbabwe, and the DRC. The route, which measures 16,576 km, has been designed to cater to the demand for more capacity from Liquid's hyperscale customers.
Hardy Pemhiwa, Group President and CEO of Cassava Technologies, says, "As a business of Cassava Technologies, Liquid is committed to enabling a digitally connected future for every business and individual in Africa. We are proud to partner with Nokia as we expand our high speed fibre backbone on the continent. This investment further demonstrates our commitment towards Africa's inclusive digital transformation".
In addition, the route will provide thousands of businesses and millions of households in many of Africa's landlocked cities, towns and villages with more resilient connectivity and access to numerous data centres and cloud resources. At the same time, providing an alternative option in case of a subsea cable outage between the two countries.
Rajiv Aggarwal, Head of Central East and West Africa (CEWA) Market Unit at Nokia, said, "Nokia's next-generation optical network will enable Liquid Intelligent Technologies to maintain its leadership position and emerge as a preferred partner of organizations requiring massive capacity. We are delighted that our technology and expertise will help Liquid Intelligent Technologies provide the best-in-class digital infrastructure to Africa's enterprises and will play a role in strengthening the digital infrastructure of the continent".
Shahzad Manzoor Khan, Group Chief Technology Officer, Liquid Intelligent Technologies, adds, "Internet giants, established cloud service providers and other mega-organisations are demanding hyperscale data centres that can support high levels of performance, spikes in demand, and redundancy while enabling massive availability. Our new terrestrial fibre corridor is the first of its kind in Africa in terms of distance and capacity".
The new route is a validation for existing and potential customers that Liquid continues to deliver intelligent networks that provide increased redundancy and resilience.
Econet News Archive
2023
2022
2021
2020
2019
2018
2017
2016
2015
2014
2012
2011
2010