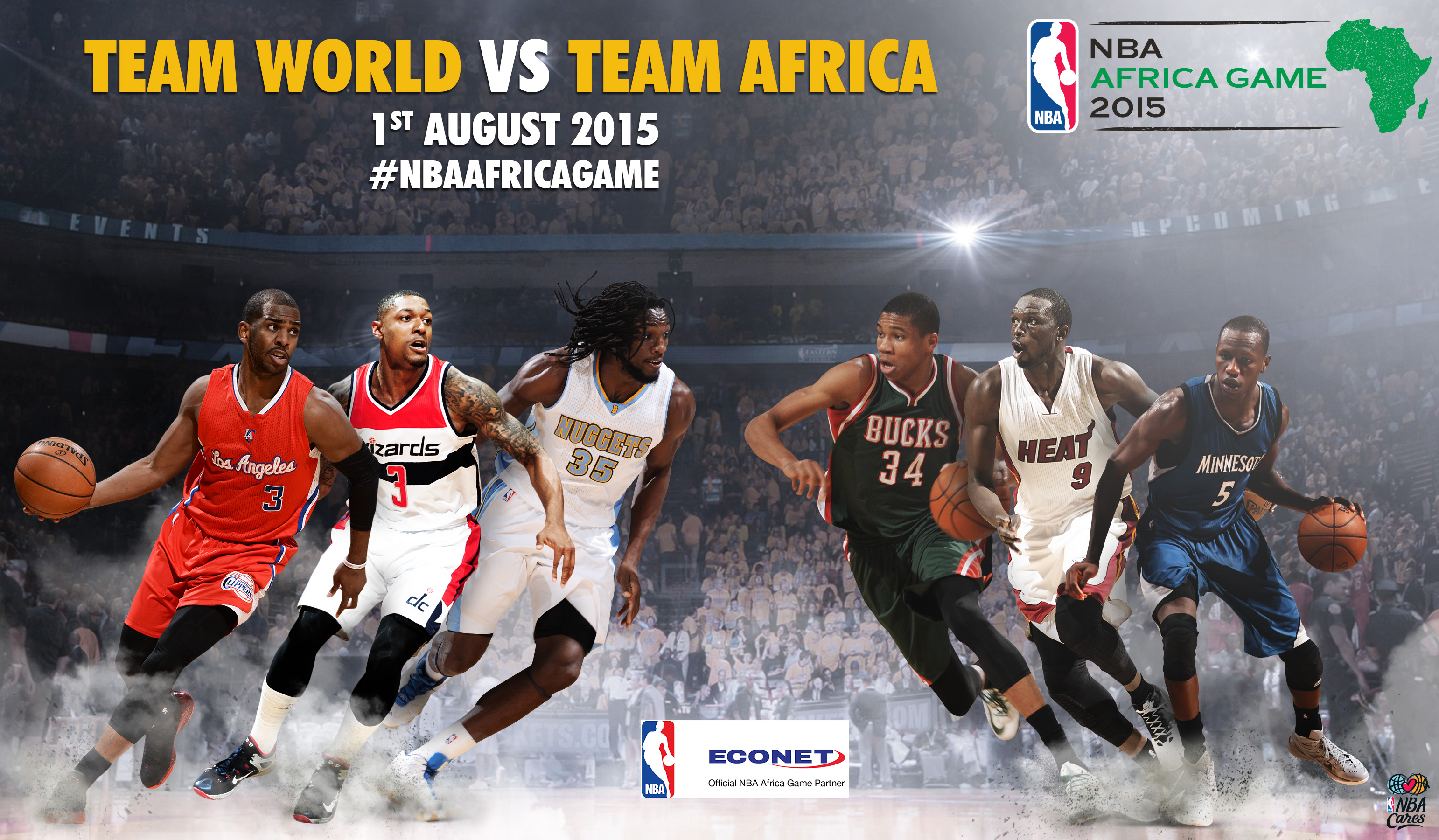 16 July 2015
NBA's First Game In Africa Attracts World-Class Partners
- Econet, Ford, NIKE, South African Airways, SuperSport,
and 947 Partner with NBA on First Game in Africa -
JOHANNESBURG, SOUTH AFRICA, July 1, 2015 – The National Basketball Association (NBA) and the National Basketball Players Association (NBPA) today named Econet Global Limited, Ford Motor Company of Southern Africa, NIKE Inc., South African Airways (SAA), SuperSport, and 947 as partners for NBA Africa Game 2015. The first NBA game in Africa will take place Aug. 1 at Ellis Park Arena in Johannesburg, South Africa.
The game will feature a Team Africa vs. Team World format and will be played in support of Boys & Girls Clubs of South Africa, SOS Children's Villages Association of South Africa and the Nelson Mandela Foundation. The game will air live in Africa on SuperSport.
Roster of Official NBA Africa Game 2015 Partners:
"This is an historic moment for the NBA and the sport of basketball in Africa, and we are excited to work with such a broad range of partners to make this game possible, said Amadou Gallo Fall, NBA Vice President and Managing Director-Africa. "The game will impact young people throughout the continent, both on the court and in the community, as we bring some of the world's most recognizable athletes to Johannesburg to celebrate our long tradition in Africa."
Team Africa, comprised of players from Africa and second-generation African players, will feature team captain and two-time NBA All-Star Luol Deng (Miami Heat; born in South Sudan), Serge Ibaka (Oklahoma City Thunder; Congo) and Gorgui Dieng (Minnesota Timberwolves; Senegal).
Team World, comprised of players from the rest of the world, will feature team captain and eight-time NBA All-Star Chris Paul (Los Angeles Clippers; U.S.), Bradley Beal (Washington Wizards; U.S.) and Kenneth Faried (Denver Nuggets; U.S.).
Full Team Africa and Team World rosters will be announced soon.
The NBA has a long history in Africa with more than 35 players from the continent featured on NBA rosters since Hakeem Olajuwon was drafted in 1984. Through NBA Cares, 58 places to live, learn or play have been created in Africa, and Basketball without Borders Africa has been held 12 times on the continent. The league opened an African headquarters in Johannesburg, South Africa, in 2010 and recently launched Jr. NBA leagues in Mozambique and Uganda as part of comprehensive grassroots programs across the continent.
For more information, fans can visit nba.com/africa; Facebook.com/Africa and Twitter @NBA_Africa. Fans can also download NBA Game Time, the official app of the NBA for news and updates, scores, stats, schedules, videos and more. NBA games, highlights and special programming are available on SuperSport.
About the NBA:
The NBA is a global sports and media business built around three professional sports leagues: the National Basketball Association, the Women's National Basketball Association, and the NBA Development League. The league has established a major international presence with offices in 13 markets worldwide, games and programming in 215 countries and territories in 47 languages, and NBA merchandise for sale in more than 125,000 stores in 100 countries on 6 continents. NBA rosters at the start of the 2014-15 season featured a record 101 international players from 37 countries and territories. NBA Digital's assets include NBA TV, which is available in 60 million U.S. homes, and NBA.com, which recorded 26.9 billion page views during the 2013-14 season, with more than half of all visitors originating from outside of North America. The NBA is the No. 1 professional sports league on social media, with nearly 835 million likes and followers globally across all league, team, and player platforms. Through NBA Cares, the league and its teams and players have donated more than $260 million to charity, completed more than 3.3 million hours of hands-on community service, and created more than 970 places where kids and families can live, learn, or play.
About the NBPA:
The National Basketball Players Association (NBPA) is the union for current professional basketball players in the National Basketball Association (NBA). Established in 1954, the NBPA mission is to ensure that the rights of NBA players are protected and that every conceivable measure is taken to assist players in maximizing their opportunities and achieving their goals, both on and off the court. For more information, go to www.nbpa.com.
###
Contact: Rick Pendrick, NBA, 212-407-8121, rpendrick@nba.com
NBA Africa Game 2015 Video: http://www.nba.com/video/channels/nba_tv/2015/04/21/101451-nba-africa-luol-deng-hd-1080p.nba/
Econet News Archive
2023
2022
2021
2020
2019
2018
2017
2016
2015
2014
2012
2011
2010