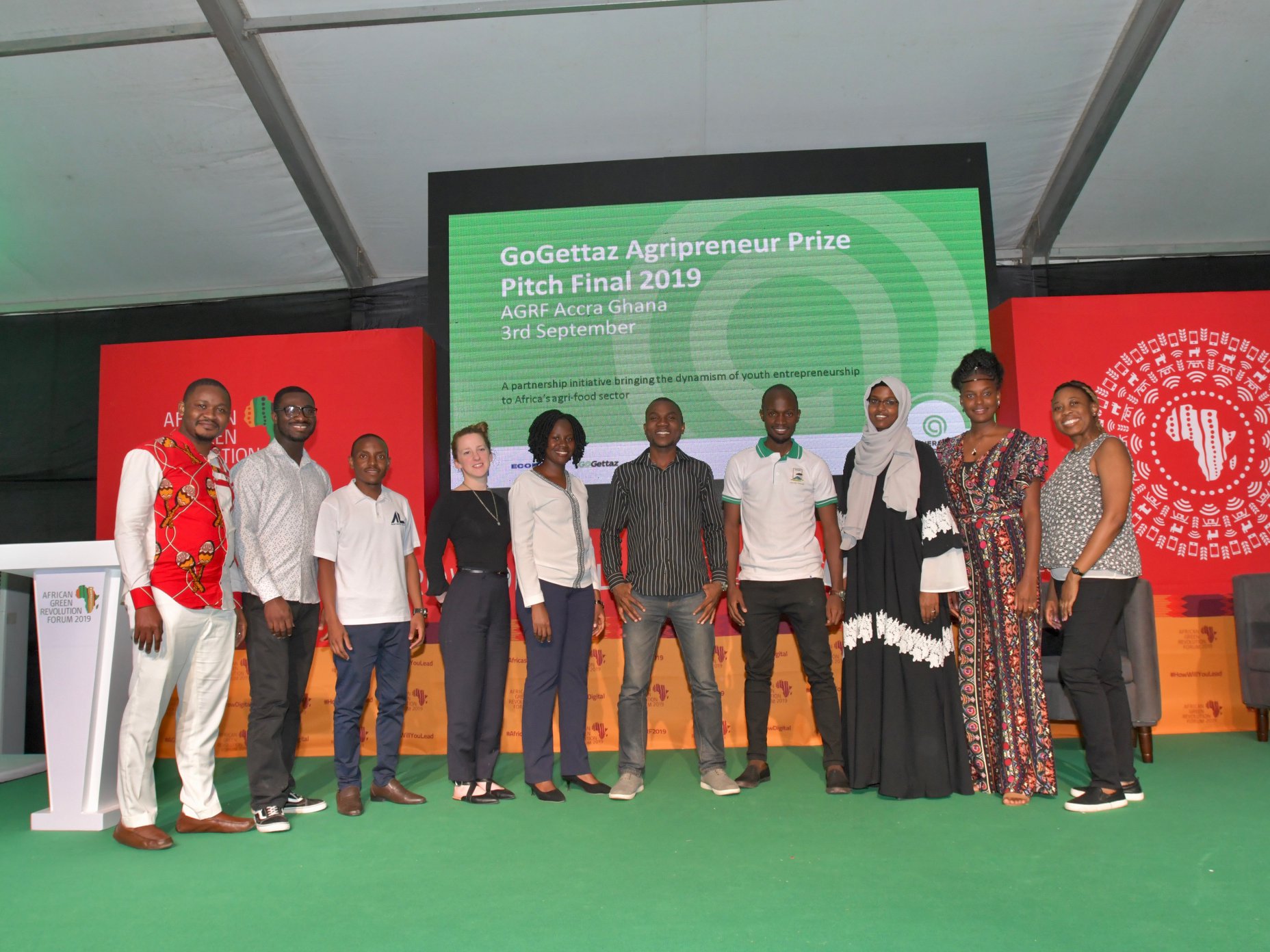 22 August 2019
Press Release: 12 Young Entrepreneurs Vie To Win Prestigious $100,000 GoGettaz Agripreneur Prize - Generation Africa
New "Generation Africa" initiative to grow young entrepreneurs and transform Africa's agri-food sector will award two $50,000 prizes on 4 September at the Africa Green Revolution Forum in Accra, Ghana.
Johannesburg, 22 August 2019 – 12 young entrepreneurs from across Africa — Botswana, Cameroon, Democratic Republic of Congo, Ghana, Kenya, Nigeria, Senegal, South Africa, Uganda, and Zimbabwe — have been named as finalists in the inaugural $100,000 Generation Africa GoGettaz Agripreneur Prize, a new, continent-wide competition launched on 30 May to select two innovative ventures in the agri-food sector to win $50,000 each in social impact investment as well as mentoring support.
On 3 September 2019, the 12 agripreneurs (six men and six women, aged 18-35), each founders of financially viable ventures in the agri-food sector, will take part in a live grand finale competition at the Africa Green Revolution Forum in Accra, Ghana. The following day, two winners (one woman and one man) will be announced at the AGRF Gala Dinner alongside the winner of this year's prestigious Africa Food Prize.
The 2019 GoGettaz competition is the flagship project of Generation Africa, a broader partnership initiative, founded by Yara International and Econet Global launched in Davos earlier this year when it released Landscape Study: Youth Enterprise in Africa's Agri-Food Sector. Generation Africa's enduring mission is to bring the dynamism of youth entrepreneurship to Africa's agri-food sector, and to strengthen the ecosystem that supports these entrepreneurs as they travel the challenging journey from ideation to scale. Generation Africa's vision is to inspire young Africans to become agri-food entrepreneurs; increase the number of youth-led agri-food SMEs sustaining annual growth rates of over 20%; encourage venture capital to be invested in high-potential agri-food SMEs; create jobs; and support the development and commercialization of transformative innovations and technologies in the agri-food sector.
"A new generation of tech-savvy agripreneurs will help deliver the jobs, prosperity and food security that are vital to Africa's future," noted Luis Alfredo Pérez, Head of Business Unit Africa at Yara International.
So far, the GoGettaz agripreneurship campaign has reached over 46 million young people across the continent since its launch on May 30. From a pool of 3,000 online applicants from 39 African countries, the 12 finalist ventures stood out with their comprehensive business ideas, inspiring pitch videos, and strong telephone interviews conducted by judges who looked specifically for 1) innovation; 2)market presence and traction; 3) inspiration and presentation; 4) social and environmental impact; and the 5) the scalability and financial sustainability of their business model.
"Africa's next generation brings a confident entrepreneurial mindset which, when matched with education, support and investment, will accelerate tech-enabled growth and job creation. Much of this potential lies at the intersection of the agri-food sector and the current technology revolution," said Dalumuzi Mhlanga, Chief of Staff at Econet Global.
The 12 GoGettaz Agripreneur Prize finalists for 2019 are:
Women
Ecodudu Limited, Starlin Farah, Kenya – Ecodudu Limited is a feed manufacturing and fertilizer producing company that uses Black Soldier Fly insect technology to sustainably and consistently offer alternative protein for animals. We focus on betterment of social, economic and environmental aspects in our business model.
Gourmet Grubb, Leah Bessa, South Africa– Gourmet Grubb has created a dairy alternative / alt Protein using Black Soldier Fly larvae, farmed commercially. The aim is to introduce insects as sustainable, scalable, nutrient-dense food source to the world with the goal of reducing the pressures of traditional farming on the planet.
Le Lionceau, Siny Samba, Senegal – Le Lionceau values local African resources with high nutritional value to improve the nutritional health of moms and baby food value chain by collaborating with local farmers.
Maungo Craft, Bonolo Monthes, Botswana – Maungo Craft works with oil producers and communities to turn underused indigenous fruits of Botswana into gourmet low-to-no-sugar preserves. We put our culture in a bottle.
ReelFruit Nigeria, Affiong Williams, Nigeria – ReelFruit is the largest dried fruit processing company in Nigeria by revenue and distribution. A range of 6 unique dried fruit and nut snacks is retailed in over 250 locations in Nigeria as well as schools, airlines, hotels and exports to Belgium, Switzerland and the US via Amazon.com.
Women Smiles Uganda, Lilian Nakigozi, Uganda – Women Smiles Uganda is a women-founded, women-led and women- focused social enterprise that was founded by likeminded young female social entrepreneurs with an aim of transforming the lives of women through eradication of hunger and poverty using vertical farming mechanisms.
Men
Alley Capital Limited, Piwai Chikasha, Zimbabwe – Alley Capital Limited provides high quality crop spraying services using customized drones through affordable prices and expertise to develop unique in-house systems.
ColdHubs, Bright Benjamin Igbokwe, Nigeria – ColdHubs is a social enterprise that designs, installs and operates 100% solar-powered walk-in cold rooms in outdoor markets and farm clusters, for smallholder farmers, retailers and wholesalers to store and preserve food, extending the shelf life from 2 – 21 days.
Distribution Express (DITEX), Bertin Fokou, Cameroon – Ditex is launching "WhatsNear", a mobile and web app, to reduce the cost of transporting agricultural products by 50% by helping farmers to find a means of transportation cheaply, reliably, fast, and available close to the pick-up place of their production.
FarmCorps, Job Oyebisi, Nigeria – FarmCorps leverages mobile identity systems, risk analysis and tokenization of funds to enable donors, peer-lenders and micro-finance institutions to easily finance smallholders to purchase of quality farm-inputs.
Ngomalands, Steven Betcha, Democratic Republic of Congo – Ngomalands is a tech-platform that connects owners of uncultivated arable land with people seeking land to rent for agricultural purposes.
Sesi Technologies Limited, Isaac Sesi, Ghana- Sesi Technologies is an Agri-Tech company, tackling poverty and hunger in Sub-Saharan Africa by empowering farmers and businesses along the agricultural value chain with affordable technologies (currently GrainMate and FarmSense) to help reduce losses, increase productivity, yield and profits.
About Yara
Yara grows knowledge to responsibly feed the world and protect the planet, to fulfill our vision of a collaborative society, a world without hunger and a planet respected. To meet these commitments, we have taken the lead in developing digital farming tools for precision farming and work closely with partners throughout the whole food value chain to develop more climate-friendly crop nutrition solutions. In addition, we are committed to working towards sustainable mineral fertilizer production. We foster an open culture of diversity and inclusion that promotes the safety and integrity of our employees, contractors, business partners, and society at large. Founded in 1905 to solve the emerging famine in Europe, Yara has a worldwide presence with about 17,000 employees and operations in over 60 countries. In 2018, Yara reported revenues of USD 12.9 billion. www.yara.com
About Econet
Econet is a pan-African Telecommunications, Technology and Renewable Energy Group, focused on digitally connecting customers in the 28 markets – mostly in Sub-Saharan Africa – where it has operations and investments. Over the years, the Econet Group has developed a converged offering of products and services spanning mobile telephony, fibre infrastructure, media broadcasting, financial services (Fintech), e-commerce, Internet of Things (IoT), and renewable energy. Through these, Econet has connected people, improving their lives and helping to transform the societies in which we operate.
Econet Group's subsidiaries include Econet Mobile Networks Group, Liquid Telecom, Cassava SmarTech, Distributed Power Africa, Vaya Africa and Technites Africa. Our focus is on the positive transformation of Africans' lives and of the communities where we serve. We are committed to answering Africa's call, creating new pathways and possibilities because we speak 'AfriCAN' and we are Inspired To Change Your World. https://www.econetafrica.com/