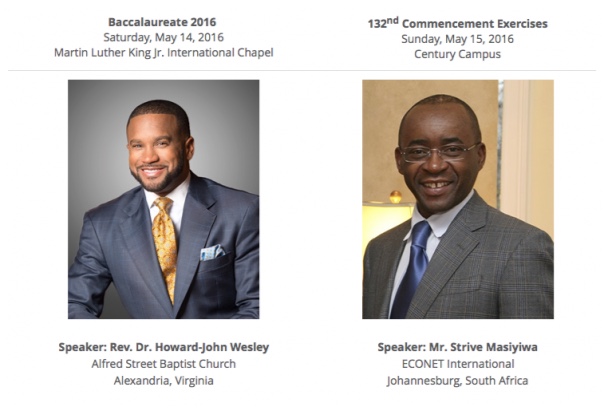 28 March 2016
Strive Masiyiwa, Named as Morehouse College 2016 Commencement Speaker
ATLANTA, March 24, 2016 – Strive Masiyiwa, one of Africa's most influential businessmen and Zimbabwe's first billionaire, will address the Morehouse College class of 2016 during the 132ndCommencement exercises on Sunday, May 15, at 8 a.m. on Morehouse's historic Century Campus.
It will be an extra special day for Masiyiwa, the founder of the global telecommunications firm, Econet Wireless. The first nine Andrew Young International Scholars, all whom came from African orphanages and were sponsored by Masiyiwa's Higher Life Foundation, will be among those receiving their degrees that day. One of them will be 2016 International Rhodes Scholar Prince Abudu from Zimbabwe.
Masiyiwa, a cell phone pioneer, fought a landmark constitutional legal battle for five years that ended a state monopoly in telecommunications and forced the opening of the African sector to private capital. He serves on a number of international boards, including the Morehouse College Board of Trustees. In 2015, Forbes Magazine named Masiyiwa one of the "Ten Most Powerful Men in Africa" while a year earlier, CNN Fortune Magazine selected him as one of the "World's 50 Greatest Leaders."
Masiyiwa and his wife, Tsitsi, are members of the Giving Pledge, a commitment by the world's wealthiest individuals and families to dedicate the majority of their wealth to philanthropy. They also finance the Higher Life Foundation, which provides scholarships to more than 42,000 African orphans. Masiyiwa was awarded an honorary doctorate degree by Morehouse College in 2012 in recognition for his philanthropic and humanitarian work across the African continent.
The day before receiving their diplomas, the class of 2016 will get a spiritual address from The Rev. Dr. Howard-John Wesley during the Saturday, May 16 Baccalaureate ceremony at 3 p.m. in the Martin Luther King Jr. International Chapel.
Wesley is pastor Alfred Street Baptist Church in Alexandria, Virginia. Under his leadership, the church has grown to nearly 7,000 members and nearly 80 ministries. With a passion for young people, Wesley leads a church that this year hosted their 14th Annual HBCU College Festival, where $2.1 million in scholarships were awarded to high school seniors.
For the 2016 Commencement/Baccalaureate/Reunion weekend schedule and other information, go to http://www.morehouse.edu/commencement/.
To learn more about Morehouse College commencement speaker Strive Masiyiwa, go tohttp://www.econetwireless.com/strive_masiyiwa.php. To learn more about Morehouse College Baccalaureate speaker the Rev. Dr. Howard-John Wesley, go to http://www.alfredstreet.org/leaders/about-pastor-wesley/.
###
Ranked America's fifth "Most Entrepreneurial College" by Forbes Magazine in 2015, Morehouse College is the nation's largest liberal arts college for men. Founded in 1867, the College enrolls approximately 2,100 students and historically has conferred more bachelor's degrees on black men than any other institution in the world. Morehouse College has produced more Rhodes Scholars than any other HBCU. Prominent alumni include Martin Luther King Jr., Nobel Peace Prize laureate; Dr. David Satcher, former U.S. Surgeon General; Shelton "Spike" Lee, American filmmaker; Maynard H. Jackson, the first African American mayor of Atlanta, Ga.; and Jeh Johnson, the Secretary of Homeland Security.
Credit: http://www.morehouse.edu/newscenter/strive-masiyiwa-one-of-africas-most-influential-businessmen-named-2016-morehouse-college-commencement-speaker-the-rev-dr-howard-john-wesley-to-give-baccalaureate-sermon/
Econet News Archive
2021
2020
2019
2018
2017
2016
2015
2014
2012
2011
2010